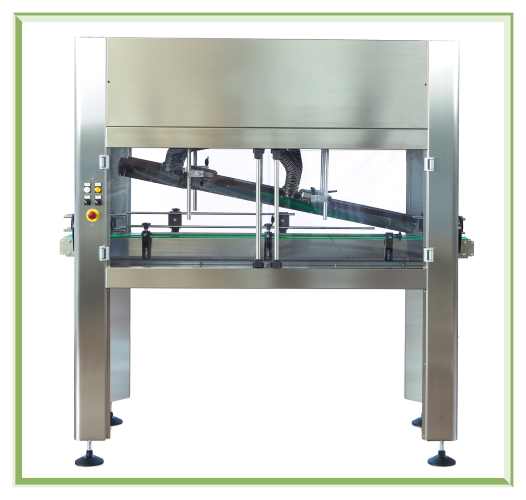 The drying tunnels are commonly used in the beverage and food industry to remove water drops from the external surface of bottles and jars, after the filling or pastorizing operation.
The linear type tunnels are equipped with high-pressure blowing fans, supplying the air to a series of terminal blades, adjustable to fit bottles and containers with different shape and size.
Thanks to the volume and pressure, the air coming out from the terminal blades is warmed up, increasing - thanks to the heat inside the drying room - the efficiency of the drying power.
The tunnels are properly tailored in length and power of the blowing fans according to the working speed of the line, to remove efficiently the condensation drops from the bottle walls.
Main specifications :
* Stainless steel conveyor, linear type, with adjustable side rails
* Stainless steel frame, mounted on height adjustable supports
* Blowing fans positioned in a top chamber, stainless steel made with sound-absorbent panels
* Plexiglass door for total access to adjust the blowing blades
* High-pressure blowing fans, without use of electric resistances to reduce power consumption
* Terminal blowing blades, properly shaped to achieve the best air strength and compression
* Blowing blades adjustable in height and inclination, to fit containers of most different types (bottles, jars, cans)