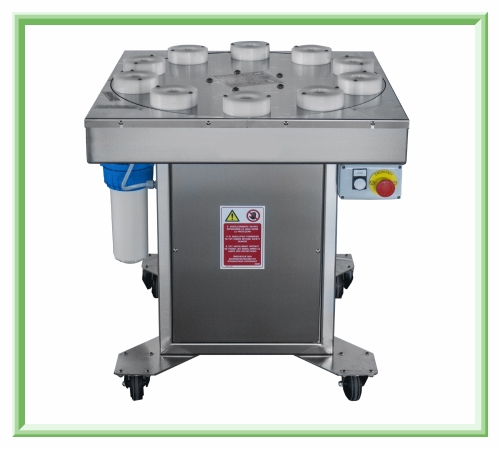 The semiautomatic rinsing machines mod SC-10 is a rotary unit designed for washing the inside of new bottles and jars, before filling.
This range of equipment is the simplest and less expensive solution for solving in a professional way all issues of :
- risks of biological contamination of bottles and jars, due to powders, small leaves, insects
- risks of serious injuries caused by glass particles remaining inside the bottles
The unit is including a table with with 10 bottle-positions, rotating with a step-by-step motion.
One single operator can easily handle the machine, placing and picking up the bottles from the frontside of the machine.
A micro-switch detecting the incoming bottles, controls the water jet (no bottle / no spray).
The rinser in the standard version is sparging water from the supply net; a version with a recycling kit is available, to rinse with an alcohol based solution or a sterilizing solution.
The speed is 700 bottles per hour, allowing the machine to be used together with semiauto or small automatic bottling - packing lines.
Base-frame made of aisi 304 s/s mounted on castor-wheels
n.b.: the rinsing machines are not suitable for recycling of used bottles-jars