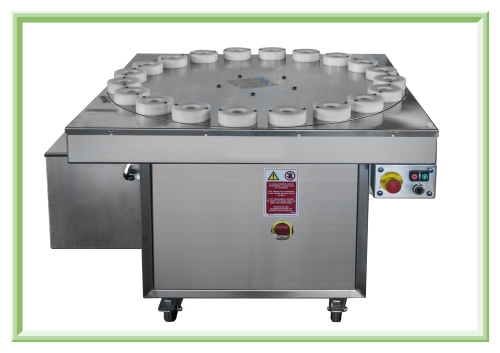 Rinsing - sterilizing machines, rotary type, mod. SC-20 - designed for washing the inside of new bottles and jars before filling.
This range of equipment is the simplest and less expensive solution for solving in a professional way problems of :
- micro and macro biological contamination of bottles and jars - removing powders, small leaves, insects
- risks of serious injuries due to glass particles eventually fallen inside the bottles
The unit is including a rotary table with stepping motion, with 20 bottle-places.
One single operatos can easily handle the machine even at its maximum running speed, thanks to the placing and picking of the bottles from the front-side of the machine.
Thanks to a micro-switch detecting the incoming bottles, the water jet is sprayed only in presence of the bottle.
The rinser in the standard version is sparging water from the supply net; a version with recycling kit is available, to rinse with an alcohol based solution or a sterilizing solution.
All the versions are equipped with a 0,45 microns filtering cartridge
The speed can be adjusted up to 1.200 pcs per hour, allowing the machine to be used together with small automatic bottling - packing lines as well.
n.b.: the rinsing machines are not suitable for recycling of used bottles-jars