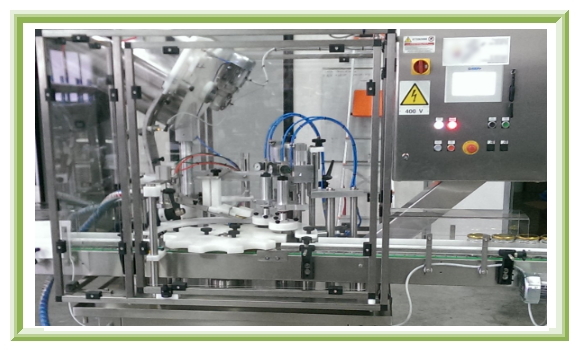 Full automatic unit for dosing several food products in glass or plastic jars, like honey, jams, ketchup, yoghurt, melted cheese, sauces.
The monoblock is including 2 working stations :
- Dosing station, equipped with 2 or 3 filling heads. The dosers can be pneumatic piston type, or rotary type (gears pumps).
- Dispenser of the twist-off lids, with magnetic type orienting-feeding bowl. On option, it is possible to supply a capsules elevator with large volume hopper.
- Capsule chute with adjustable sides for different diameters of the lids; pick off head for direct distribution of the lid on the jar.
Chute equipped with capsule presence sensor and alarm for lack of capsules.
- High temperature heating gun for the capsule rubber seal, with adjustable temperature control
- 2 or 3 heads pneumatic closing. Vacuum capping system available on option, for safe packing of products sensible to the oxydation (mayonnaise, pesto sauce).
Electrowelded stainless steel base, mounted on 4 adjustable supporting legs
All operations (filling, cap distribution, cap closing) take place on a rotary starwheel, with step-by-step motion
Channel around work surface to collect any discharged product
Complete machine designed for independent operation, supplied with stainless steel chain, transmission and drive.
Certified CE conformity.
Electric Control Panel with IP55 safety protection
PLC with touch-screen controller for adjusting all working settings (start-stop, automatic-manual cycle, washing cycle, precision setting of the dose, filling speed with flow adjustments, working timing "bottle stop – filling – start", alarms display)