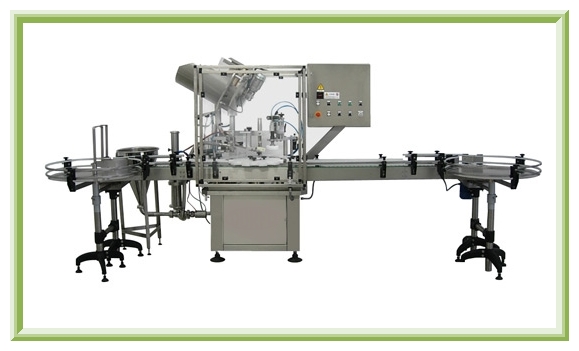 The RTW1000 automatic dosing+capping machine is designed for filling jars or bottles with thick food products and capping with twist-off caps.
Electrowelded stainless steel base, mounted on 4 adjustable supporting legs
All operations (filling, cap distribution, cap closing) take place on a rotary starwheel, with step-by-step motion
Channel around work surface to collect any discharged product
Complete machine designed for independent operation, supplied with stainless steel chain, transmission and drive.
Certified CE conformity.
Electric Control Panel with IP55 safety protection
Volumetric doser with gear pump :
no. 1 rotary pump made in aisi.316 quality stainless steel
inverter speed adjustment of the pump
adjustment of the product dose from 20cc and of the rotation speed by electronic setting on control panel
pneumatic controlled 2-ways nozzle with anti-dripping device
ideal for dense and partially dense products; it gives a higher precision in the dosing without pressure adjustments, thanks to the quick electronic adjustment.
Easy to wash and sterilize, reduced maintenance and wear.
Caps distributor and closer :
Capsule distributor with silent magnetic positioner for metal capsules
adjustable drop channel for different sizes, release head
device for detecting capsules in the channel
No. 1 screwing head, pneumatically operated at low speed with controlled closure stress
Hot-air heater for capsule rubber seal, before capsule release, with adjustable temperature control
Large diameter starwhel for jar motion to the different positions
PLC with touch-screen controller for adjusting
all working settings (start-stop, automatic-manual cycle, washing cycle, precision setting
of the dose, filling speed with flow adjustments, working timing "bottle stop – filling – start", alarms display)