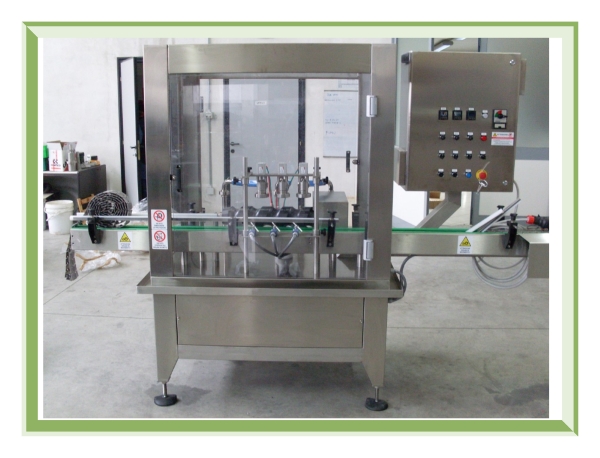 The D-E automatic dosing machine is a linear type equipment, equipped with rotary pumps, designed for filling jars or bottles with liquid or thick products.
It can be used for filling of chemichal - cosmetic products, as detergents, personal care products, creams, lotions.
The dosing pumps can be steamed to achieve perfect sanitation, this makes the machine ideal in food industry as well, for dosing fruit juices, syrups, tomato sauce, honey.
The rotary dosing pumps made in Aisi 304 quality stainless steel are driven by electric motor with inverter control.
PLC with touch-screen controller for adjusting all working settings (start-stop, automatic-manual cycle, washing cycle, precision setting of the dose, filling speed with flow adjustments, working timing "bottle stop – filling – start", alarms display)
Pneumatic controlled 2-ways nozzles with anti-dripping device
Adjustment of the product dose from 20cc
The standard equipment is equipped with 2 pneumatic gates for selection and stopping of the bottles and canisters, without need of change parts
In case of small or unstable bottles, an endless screw is used for the proper transfer under the dosing nozzles.
Stainless steel or plastic conveyor chain with drive motor, synchronized with the working phases (bottles inlet - filling - outlet).
Special 'plunging nozzles' device can be installed for dosing foamy products.
The machine is supplied complete with 'dummy bottles' for automatic washing operation, recycling of the washing solution is possible as well.
The basic machine is equipped with 3 dosing pumps, nevertheless it is possible to design versions with 2 - 4 - 6 heads, according to the speed requirements.
Machine ready to be installed in a complete packing line; standard version adjustable for different sizes of products without need of change-parts