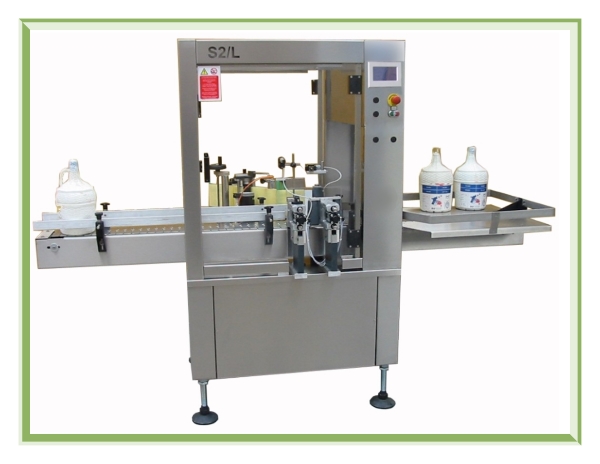 The labelling machine is designed for applying self-adhesive labels on big sized containers, round or square shape.
Thanks to its flexibility, this machine allows to label products with different shapes and sizes, with a few simple adjustments.
The working fields are going from the food to the chemical industry.
The machines are always manufactured following the specific product to be handled, both cylindrical and rectangular, with one or two labelling heads.
All the machines can be customized with several accessories : conveyor chain with special frames, drive motors, fixed or rotaty accumulating tables, handle centering devices, printing systems with hot-foil or ink-jet technology.
Technical Specifications:
Complete safey guarding complying with EEC laws
Infeed scroll or motorized rollers for spacing the incoming containers
Motorized top belt to stabilize square - rectangular bottles
Labelling units motion by stepping motor
Labelling units adjustable in height, for the easiest adjustment to the different types of labels and bottles
Electronic 'no bottle – no label' device
Electronic card with keyboard for all working settings
Start signal for label release by precision sensor
Speed of labelling units synchronized with the speed of the machine
Machine base-frame completely covered with stainless steel plate
Aluminium parts covered with anti-rust painting