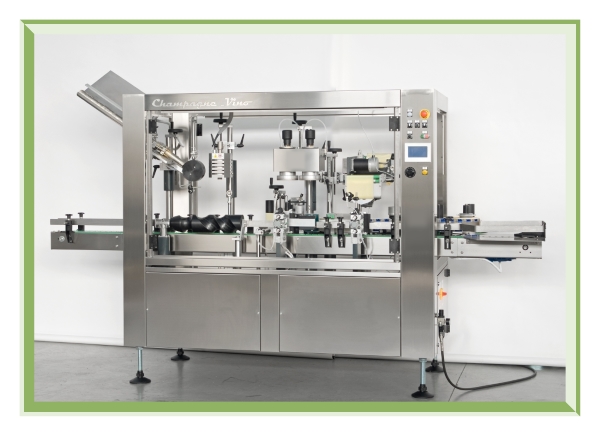 The machine performs the distribution, smoothing and pleating of the champagne hoods and applies front, back and neck wrap-around (option) labels self-adhesive type.
The output with the sparkling wine hooding + labelling (with photoelectric orientation) is of 800 bph, while it is possible to increase the working speed up to 1.800 bph with still wines.
Main Specifications
- Complete safey guarding with large s/s frame
- Infeed screw for 1 size 75cl cylindrical glass bottle
- Capsule dispenser with inclined plate for champagne hoods
- Top pressing head for champagne hoods with pneumatic up/down motion
- Double optical orienting device for the champagne capsules
- Double pneumatic head for pleating and smoothing of champagne hoods
- No. 3 labelling units for application of body, back and neck-wrap labels self-adhesive type
- Labelling units motion by stepping motors
- Labelling units adjustable in height and inclination, for the easiest adjustment to the different
types of labels and bottles
- Electronic 'no bottle / no label' device
- Start signal for label release by precision sensor
- Speed change by frequency inverter
- Speed of labelling units synchronized with the speed of the machine
- Electronic control of all working settings by PLC with touch-screen control
- Conveyor chain drive motor with fixed accumulating table at outfeed 500x600mm
- Machine base-frame completely covered with stainless steel plate
- Aluminium parts covered with anti-rust painting
- Machine pre-disposed for labelling still wine bottles, with shrinking or spinning capsuling.
Options
- shrinking or spinning heads for still wine capsules
- hot-foil printer
- adjustment to handle tapered bottles