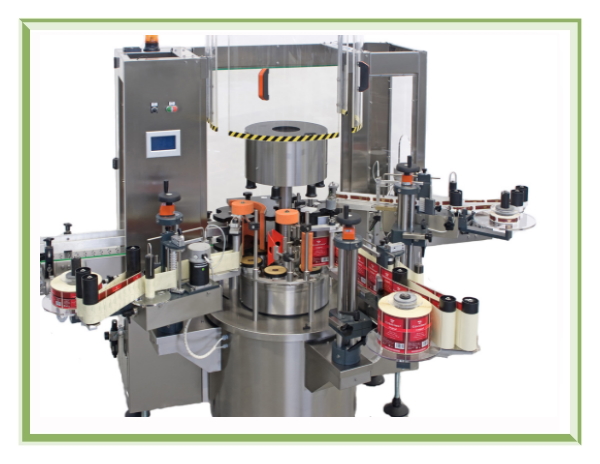 The automatic labellers for self-adhesive labels are designed for the labelling of bottles, cans, jars as well as any other container, with cylindric or different shapes.
The range of rotary labellers are available in different models with 3 - 6 - 10 - 12 bottle-seats on central carousel.
All the machines can be equipped with a variable number of labelling heads, from one up to five groups - to comply with any requirement in terms of bottle dressing and production output.
A set of available options can be supplied on demand, such as touch-screen control panel, hot-foil printer, bottles accumulating tables.
All the labelling heads are supplied with independent electronic cards and can be supplied with special sensors for detecting clear labels.
TECHNICAL SHEET
Safety covers with large stainless steel frame and plexiglass panels
Bottle platform rotation by cam in oil bath
Motion transmission by gears
Bottle­-holding heads with pneumatic blocking system
Mechanical height adjustment of the upper carousel
Labelling stations equipped with stepping motors for high precision in label application
Label release with electronic card
Labelling stations adjustable in height and inclination by handwheels, without tools
Labelling stations support on 3 shafts for high stability
Digital meter for precision height adjustment
Double spring­loaded device for smooth label web dispensing
Paper rewinder with clutch
Speed change by frequency inverter
Speed of the labelling units synchronized with the speed of the carousel
Electronic setting of labels placement on the bottle
Safety stopping system by clutches on infeed screw, in / out starwheels and main shaft
Base­frame complete made in stainless steel, with aluminum parts covered with anti­rust painting