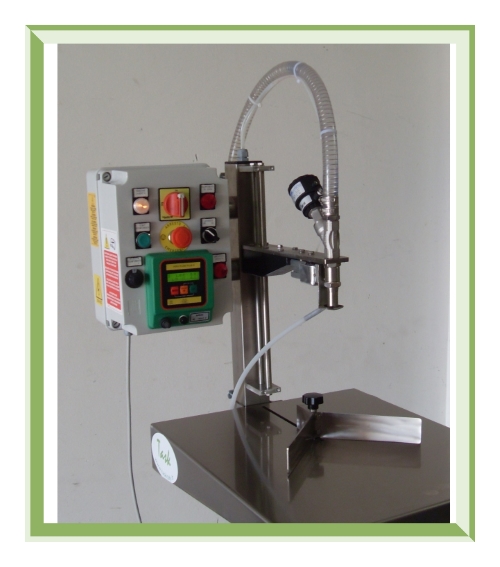 The semiautomatic filler mod. FILLOIL is designed for filling edible oil in bottles, cans, canisters with different sizes and volumes.
The filling assembly is including a volumetric rotary pump with output 30 Lt/min, with aisi.304 s/s case and EPDM impeller.
A rotary flow-meter made in aisi.316 stainless steel, controlled by an electronic control card,
A flow-meter rotary assembly in aisi.316 stainless steel, mastered by an electronic controller, allows to fill with high precision both small volume bottles (from 50cl) up to large canisters of 20-30L.
The product flow speed can be easily adjusted by means of a potentiometer, controlling a frequency inverter (this system is very useful for filling both small bottles and bigger cans).
A 2-ways switch selects 'work' and 'continuous' cycles (for washing the unit or using it as product transfer pump).
The unit can be supplied for filling other products, as wine, vinegar, water
Technical Specifications :
Frame and all metal parts in aisi304 stainless steel, with 2 wheels + 2 fixed legs
Bottle positioning table with height adjustment and bottle-centering device
All adjustments to fit different bottles, cans and canisters with handles – knobs, no need of tools
Pneumatic on/off distribution valve in aisi.316 stainless steel
Dosing nozzle with height adjustment, with pneumatic anti-dripping tray
Electronic control card with LCD display, to set the filling quantity from 0,5L up to 999 L. (with 10cc steps) – counter of total filled quantity and fine settings of all operating parameters
Manual start push-button with automatic stop after the filling cycle
Control panel including : on/off main powert switch, start button, emergency red button, 'power on' light, 'machine on' light, emergency light, potentiometer for adjusting the filling speed