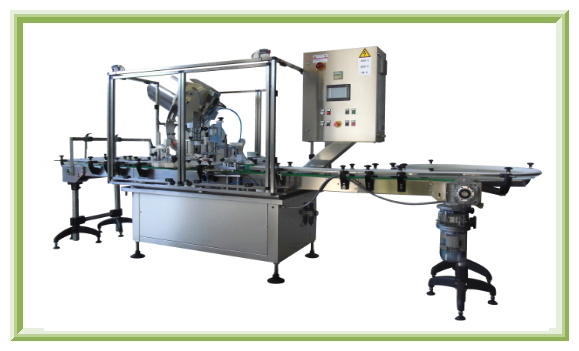 The RTE1000 automatic dosing+capping+labelling machine is designed for filling jars or bottles with thick products + capping with twist-off caps + labelling with self-adhesive labels.
Filling, cap distribution, cap closing operations take place on a rotary starwheel, with step-by-step motion - labelling is performed at the outlet with one or two labelling heads, depending on the need.
The max production output is 1.500 jars/h., depending on the specifications of the products and the size of the jar.
The unit is including :
- Dosing assembly with rotary pump made in aisi.316 quality stainless steel
• inverter speed adjustment of the pump
• adjustment of the product dose from 20cc and of the rotation speed by electronic setting on control panel
• pneumatic controlled 2-ways nozzle with anti-dripping device
• ideal for dense and partially dense products; it gives a higher precision in the dosing without pressure adjustments, thanks to the quick electronic adjustment.
- Caps distributor and closer
• Capsule distributor with silent magnetic positioner for metal capsules
• adjustable drop channel for different sizes, release head
• device for detecting capsules in the channel
• No. 1 screwing head, pneumatically operated at low speed with controlled closure stress
- No.1 or 2 labelling stations for application of self-adhesive body labels and seal-strips on glass jars
• Labelling unit motion by stepping motor
• Labelling unit supplied with a loading plate for a roll Ø.250mm max.
• Electronic 'no bottle – no label' device
• Start signal for label release by precision sensor
• Speed of labelling unit synchronized with the speed of the machine
Electrowelded stainless steel base, mounted on 4 adjustable supporting legs
Complete machine designed for independent operation, supplied with stainless steel chain, transmission and drive.
Certified CE conformity.