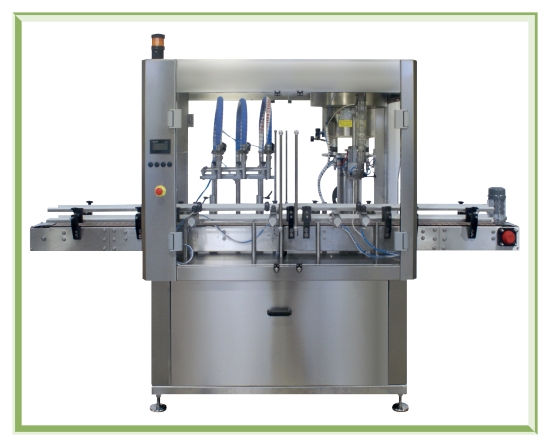 The automatic monoblocks series 'RV-T' are available in various versions, for filling and capping of big sized containers - from 3 to 10 L - with still water, wine, vinegar and edible oil.
The filling system is volumetric type, by means of high precision flowmeters with quick setting of the dose by touch screen panel
The capping turret - including automatic caps distribution - can be designed for press-on or screw caps.
The caps feeding is controlled by a cap presence photocell installed on the chute, starting the vibrating bowl when needed.
The linear construction of the machine allows to use bottles with different shape and dimensions, without need of specific change parts, when using the same type of closure.
The height adjustment of the filling valves assembly is centralized, by means of a handwheel.
The base version is including 3 filling nozzles, to achieve an estimated output of 400 bottles per hour with 5 L. content.
It is possible to supply additional filling valves, for higher production demand (up to 6 pumps)
The monoblocks can be customized with :
- infeed and outfeed conveyor length as requested
- motorized chain drive and stainless steel chain
- 'plunging nozzle' system to fill froooducts
- filling valves with proper size to fit the bottles neck diameter